Snow-Comet 100 red
[EKO3500.11]
The EKO® Snow-Comet 100 lives up to it's name: obstacle course of trees and scrubs, steep turns, risky avoidance manoeuvres or sudden full braking - for the EKO® Snow-Comet it's all child's play.
With this bod sledge in proven EKO® brand quality wild sledding fun is garanteed even on curvy or frozen over slopes.
Like a real snow comet the EKO® steering bob in appealing colors blazes the trail through the white landscape.
The EKO® Snow-Comet 100 red has extra wide synthetic steering runners, that excel with superb gliding and steering properties. Whether on fresh snow, corn snow (that is snow that has become mushy and in which other sledges like to get stuck in) or on soft or icy sledding slopes and pistes the Snow-Comet 100 red will feel at home and does not get thrown off track.
Thanks to the superior construction the bob can be effectivly steered, no matter if on curvy or straight, gentle or steep tracks - with the Snow-Comet 100 red there are no limits to snow fun.
The one-handed brake with wide profiled (toothed) metal plate has been screwed together with the bob body 4 times for extra safety and strong breaking power on soft and on icy pistes.
The speciallity of the EKO® Snow-Comet is the centre placed brake lever between the legs, because this position effects the braking behaviour especially positively.
With the applied recylable, robust HD-PE synthetic material from which the Snow-Comet from EKO® is produced by injection moulding, it is cold-resistant up to -50°C.
Nothing stands in the way of exciting sledge races on the highest peaks.
The Snow-Comet 100 red is suitable for children from 5 years.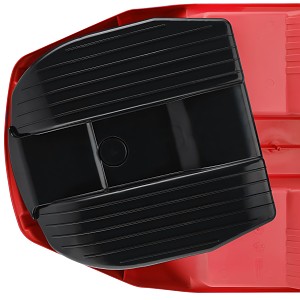 Dimensions of the Snow-Comet 100 red:
Length: 98cm
Width: 50cm
Height: 33cm
Carrying capacity: 75kg
Warnings in accordance with EU law
:
Use only under adults watch.
Not suitable for children younger than 5 years.
Use with protective gear.
Do not use in road traffic.

from the category: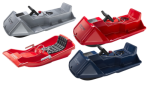 Bob Sledges
Matching Accessoirs for Snow-Comet 100 red