Classic-Bob 80 red
[EKO1310.11]
Nearly 50 years ago with the Classic-Bob, quite rightly, the success story of EKO® began.
Still today the EKO® Classic-Bob enjoys great popularity and has a fixed place in winterly childhood memories.
Equipped with a moveable middle handgrip to hold on to and to carry, the light (1.6kg) one seater bob can already be easily transported by the smallest children.
The fibreglass reinforced breaking lever provides effective breaking during wild sledding runs.
Thanks to special running grooves and rounded runner ends the Classis-Bob 80 red has good sliding attributes and solid directional stability.
The superior design in combination with high-grade synthetic materials delivers a long lifespan of the EKO® Classic-Bob 80 red.
Used in injection moulding are robust recyclable HD-PE synthetic materials that are cold-resistant up to -50°C.
Rounded corners and edges ensure an extra portion of safety, in case of a tumble.
With the Classic-Bob 80 red from EKO® already small children can experience exciting sledding runs in the snow.
The EKO® Classic-Bob 80 red is suitable for children over 5 years.
Dimensions:
Length: 82cm
Width: 38cm
Height: 19cm
Weight: 1.6kg
Warnings in accordance with EU law
:
Use only under adults watch.
Not suitable for children younger than 5 years.
Use with protective gear.
Do not use in road traffic.

from the category: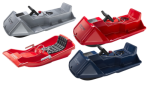 Bob Sledges