Baby-Bob perlmint
[EKO2510.199]
The Baby-Bob designed by EKO® comes in a soft perl mint color and offers a safe
playing fun in the snow even for the youngest kids
.
The backrest has a height of 30 cm and the site pieces are 15 cm high (as shoulder and arm protection) and cares for a stable seating and safe feeling during pulling.
The wide, far flung runners make the EKO® Baby-Bob
safe against overturning and steadfast
.
The runners of the EKO® Baby-Bob also have a
robust 5 mm thickness
which may excuse incidently
pulling on snow-less ground
.
A cosy
snow walk
with toddlers can be great with the Baby-Bob by EKO®.
The Bob includes a quick-release fastener which is fasten your child flexible, easy and safe.
Sweet elefants on the front site of the Bob complete the
child-friendy design
.
Manufactured with the injection moulding process out of high-quality, recycable HD-PE plastic, the EKO® Baby-Bob is cold-resistant up to -50°C – So you could easily pull your child through the Alps.
Measures
:
Length 63cm
Width 38cm
Height 30/15 cm
Weight: 2,1kg
Suitable for children from 2 years.

from the category: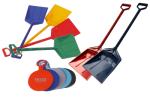 Snow Fun